Desperate, Deadly & Deranged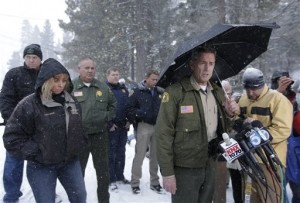 The absolutely bizarre case of a former LAPD officer turned Evil Rambo has resulted in Southern California law enforcement taking extreme measures to both protect themselves and run down this mutant marauder. As of Friday morning, he had killed three people – one of them a Riverside (Calif.) PD officer. The Riverside officer and his partner were ambushed, demonstrating a willingness to go on the offensive and turn the "police into prey." Officers from hundreds of agencies in multiple states and two countries are now actively looking for him while doing everything reasonably possible to protect themselves.
What does he want? He says he just wants his name back. Well, you won't even find his name in this editorial because he's not worth the ink it would take to print it. This guy is a nut case, he's worthless and LAPD was obviously right to jettison him back in 2008. By the way, let's note that he's been out of an LAPD uniform longer than he spent wearing one.
Claims of knowing all the wrongdoings and weaknesses of LAPD are questionable at best. Unfortunately, there will be those (even some who wear a badge) who will give a degree of credence to his ramblings. I'll simply say this: LAPD has come a long way since the days of Rodney King and Rampart. They went through some tough times and their problems were made very public. Today, the agency does an incredible job in policing one of the most diverse and challenging cities on earth with a police force that is a fraction of that seen in other areas of the country. Having worked with some long-term LAPD personnel, I know their dedication runs deep and their commitment to serve is solid.
As for the takeaways from this self-proclaimed crusade by a crazy former cop:
1) There's a reason that psychological screening is an important part of law enforcement and we should use it and continue to look for ways to increase its effectiveness. Cops have awesome responsibilities, and they must be fit to serve—physically and psychologically.
2) Organizations have to purge their problems and continually look for ways to improve. As a profession, we have to learn from our mistakes. As my friend Gordon Graham says, you either constantly improve or you backslide. There's no standing still in this life.
3) When the going gets tough, the cops engage. I know many of the people involved in the effort to take this guy down and I have the greatest respect for them and what they're doing. They will get him.
4) Remember the basics: Armor works, but only if you wear it. Continually re-evaluate your situation and consider W.I.N. – What's Important Now? And, when dealing with a situation like this, you need to invoke W.I.N. II– What's Important Next? Finally, remember that complacency really does kill. My thoughts are with those who are searching for this menace—be safe.
It remains to be seen how this will end. If I could write the final chapter, it would end right now, with no more victims and a beaten bad guy.