Deceased Maryland Officer Ejected During Crash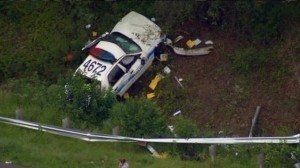 BELTSVILLE, Md. (WUSA) – The police officer who was killed in Monday's crash was not wearing a seat belt when his patrol car struck a guard rail, ejecting him into a ditch near I-95, according to a spokesperson for Prince George's County Police.
What's more, according to the Prince George's County Police Department's guidelines governing car chases, there are only four crimes that justify police pursuits: homicides; non-fatal contact shootings; armed carjackings; and armed robberies. The two men whom Officer Adrian Morris was pursuing, and apparently should not have been pursuing, were suspects from an attempted theft at a Laurel gas station.
Officer Morris, 23, suffered massive head injuries in the crash. The other officer riding with him sustained non-life threatening injuries and was released from a hospital late Monday.
Prince George's County Police said Tuesday afternoon that an occupant of the Acura involved in the fatal crash is now under arrest, according to a police spokesperson.
Sources tell 9News that the suspect is 24-year-old Kenneth Mitchell of Laurel. A D.C. Court spokeswoman says he's wanted on a bench warrant for leaving court early before he could face a judge on one count of possessing a hand rolled joint of marijuana.
Earlier Tuesday a D.C. police spokesperson said that officers recovered a suspect vehicle on Tuesday morning that's connected to the crash that killed a Prince George's County police officer.
The suspect vehicle was found in the 400 block of St. Louis Street SE around 3 a.m. Police say the green Acura was stolen from Prince George's County and they have a man in custody, Kenneth Mitchell, 24, of Laurel, who was the passenger in the Acura.
Prince George's County police officer Adrian Morris of Laurel died Monday after he was ejected from the 2006 Ford Crown Victoria in which he and his partner were riding on Interstate 95 on Monday afternoon. They had been responding to a call of an auto theft investigation in the Laurel/Beltsville area at a Shell gas station at 6600 Sandy Spring Rd.
Police released surveillance photos, attached, that show one of the two suspects at the gas station.
While the officers were interviewing witnesses to the attempted theft, they were alerted to the return of the suspects to the gas station, driving a gray Acura with temporary tags and possibly tinted windows. The officers drove off after the suspects, and caught up with the suspect vehicle on I-95 southbound.
Somehow Morris and the other officer lost control of their police cruiser and veered off the road. Morris was ejected after the car crashed into the railing and he suffered massive head injuries. He was pronounced dead at the hospital, police said.
VIEW: Officer Morris' Officer Down Memorial Page
The second officer, who was in the passenger seat, suffered several non-life threatening injuries in the crash on Interstate 95 at Powder Mill Road. He was treated for his injuries and released from the hospital later on Monday, police said. He has not been identified, but police said he had been with the department for about one year.
The suspect or suspects continued driving on I-95, police said. In a Monday night press conference, a police spokesperson indicated that one suspect may be connected to a theft in Montgomery County.
Morris had been a police "explorer" in his youth before becoming a PGPD police officer. The Explorer program invites children to experience different aspects of law enforcement and train to become a police officer. He had been with the police department for about two and a half years.
Prince George's County Police Chief Mark Magaw said many of the officers in the department had known Morris since he was 15 years old, making it extremely difficult for them.
Maryland governor Martin O'Malley has ordered flags be flown at half-staff until services are held for Morris.