DC Union leader under investigation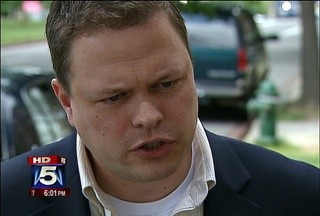 WASHINGTON, D.C. – The head of the D.C. Police Union, Kristopher Baumann, says he is under investigation by Internal Affairs, but he doesn't know why.

The chief of police says it's true, but will not reveal the allegation. Is it union busting? Retaliation for speaking out?

That's what Baumann thinks, and he's filed a federal lawsuit to protect himself.

"This department is legend for retaliation," said Baumann.

Kristopher Baumann is well-known as a passionate union chief. Freely speaking his mind, he pulls no punches. So, he wasn't surprised as much as infuriated when he received an email on June 17 ordering him to report to the Internal Affairs Bureau.

FOX 5 talked to Baumann Thursday outside the union's office in Southeast. We asked him if he thought Chief Lanier was using Internal Affairs to intimidate him.
"I know she is using internal affairs to intimidate me and she is using internal affairs to intimidate other union representatives," Baumann claimed.

It's a claim D.C. Police Chief Cathy Lanier denied.
"I believe the claim of violating his first amendment rights and targeting him and all that other stuff is just not true," said Chief Lanier.

It all began Baumann says when he began questioning the tactics used at the scene of a barricade on May 30 in Southeast. Baumann alleges in the lawsuit that command officials potentially created public safety issues and violated D.C. Police orders.

Baumann also says in the suit his stance on the chief's "All hands on deck" initiative, which he believes violates union rules, is added fuel for the alleged intimidation. He even says the department has been spying on the union.

That is a claim Chief Cathy Lanier denies, but she confirmed the probe by Internal Affairs.

"There is an investigation based on an allegation that has been made," said Chief Lanier. "But I cannot comment on that– I never do. I wouldn't in this case– it's no different than the others."

Chief Lanier says she has no problem with Baumann and the union questioning the tactics at the barricade. It's a role she supports, but the allegations of retaliation are just not true.

"I don't want to burst anybody's bubble," says Lanier. "But I really don't have the time, the desire to focus on Chairman Baumann it's not of interest to me. I'm trying to run a police department and keep crime down, so it's not in my best interest or desire to do so."

The chief says she will let the rest play out in federal court.

Kristopher Baumann has not stopped with the lawsuit. He has also sent a letter to City Council Chairman Vincent Gray asking for an immediate investigation with open hearings.