Critical Incident Stress Management Team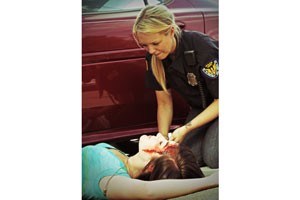 When I submitted my December article Stay Safe during the Holidays, there seemed to be a rash amount of line of duty deaths. Then before the first week of 2012 even gets started I read reports of four law enforcement officers being gunned down, (Sergeant Abimael Castro-Berrocales of Puerto Rico, Park Ranger Margaret Anderson of Washington, Officer Jared Francom of Ogden City, and Deputy William Coleman of Maricopa County) several others wounded and a homicide of a police dispatcher (Dawn Natzke of Little Rock, Ark.).
I remember a time when the bad guys used to run from us. In my little corner of the world, we would have foot chases on just about every shift and the occasional vehicle pursuit on the more serious charges. Criminals did their best to get away from us. Now it seems we're running across a criminal element that has no fear of law enforcement. They're turning to fire now instead of running. Officer-involved shootings were few and far between, but times are changing.
The offenders are also getting younger. LEOs are pushed into a corner and forced to treat children as adults because the juveniles have no respect for any type of authority. Just recently, Texas officers were forced to shoot an eighth grader who refused to drop a pellet gun that looked real. Where and when do these kids go wrong? I dispatch deputies more than once a week to parents who ask for assistance getting their child (some as young as six or seven) out of bed for school in the morning. So maybe the problem lies with the parenting.
In any event, the impact on those left behind can be devastating and sometimes overwhelming. That's where a Critical Incident Stress Management Team (CISM) comes in. Even though formal CISM programs have been around for years (my team just marked their 23rd anniversary), field personnel are still sometimes reluctant to participate in defusing or debriefings. They fear that they'll be regarded as somehow weak or no longer fit for duty. Fortunately, that mentality is slowly fading away.
CISM in a Nutshell
For those that may not have any experience with CISM, it's a group of individuals trained to support public safety personnel who have been involved in critical incidents and assist them in mitigating long-term effects of stress. It's facilitated by a mental health professional and is successful mainly due to its peer-support system.
"Peers provide to their fellow workers:
• a readily available enhancement of individual strengths
• an increase in social support
• a boost of environmental and physical resources in times of duress
• a guidance system for people to extricate themselves from painful human experiences.
Experts in crisis-support services are overwhelmingly in favor of peer-provided crisis intervention services and they back up their enthusiastic support with a long history of studies that indicate the incredible value of properly trained crisis intervention peers." –Jeffrey T. Mitchell, Ph.D., is a clinical professor of emergency health services at University of Maryland Baltimore County and President Emeritus at International Critical Incident Stress Foundation.
We all don't like to admit when we might need a break—or that the job is getting to us. Personally, I went through years of stress before I realized what was happening to me. Before I joined the Tri-County CISM Team, I never realized what the physical symptoms of accumulative stress could do to your body and mental wellbeing. I'm a veteran telecommunicator, if I can't handle this call, then what will my peers think of me? What will my supervisors think of me? When I finally realized that what I was going through was normal, I wanted to help others. I don't want good people to suffer in silence as I did. One of my team members, retired fire Deputy Chief John McMahon, sums it up perfectly: "CISM is crisis intervention for emergency service workers who are experiencing normal reactions from an abnormal event."
Seek Assistance
If your department doesn't have access to a CISM team, reach out to your EAP. Don't let it fester. Supervisors, get to know your staff so that you can recognize when someone is being affected by long-term stress or a critical incident. Make sure your people are mentally healthy after a particularly hard call. If you know your people, it will be easier to notice when something is amiss. It might be as simple as letting them take a walk so they can shake it off—or it could involve a little more assistance. As a telecommunicator, if the incident involved an officer I find that it helps if you're able to see or talk to the officer after the event is over. We sometimes just need to see for ourselves that they're OK.
You might be lucky enough to go your whole career and not have to handle a line-of-duty death, but realize that there are other calls that can affect you just as deeply. Please take action if you feel like something is not right and that you might be experiencing the effects of stress. You owe it to yourself, your coworkers, your department and the people you serve to be the best that you can be. Seek assistance.
Below is a list of symptoms and resources for you to take advantage of if you should find that you need them. I encourage you to take care of yourself and each other. Be safe my family and stay healthy. (Note: Any of these symptoms may require medical attention.)
Physical Symptoms
Chills
Elevated BP
Fatigue
Rapid Heart Rate
Fainting
Twitches
Grinding of Teeth
Profuse Sweating
Vomiting
Weakness
Headaches
Dizziness
Difficulty Breathing
Visual Difficulties
Shock Symptoms
Muscle Tremors
Nausea
Chest Pain
Thirst
Cognitive/Mental Symptoms
Confusion
Uncertainty
Suspiciousness
Blaming someone
Poor abstract thinking
Poor concentration/memory
Difficulty Identifying Objects or Person
Increased or Decreased Awareness of Surrounding
Nightmares
Hyper-vigilance, Watchful
Intrusive Images
Poor Problem Solving
Difficulty with Numbers
Disorientation of Time, Place or Person
Heightened or Lowered Alertness
Emotional Symptoms
Fear
Grief
Denial
Agitation
Depression
Apprehension
Emotional Outbursts
Loss of Emotional Control
Inappropriate Emotional Responses
Guilt
Thoughts of Suicide/Homicide
Panic
Feeling Overwhelmed
Anxiety
Emotional Shock
Irritability
Intense Anger
Behavioral Symptoms
Withdrawal
Inability to Rest
Erratic Movements
Change in Speech Patterns
Hyper-alert or Sensitive to Environment
Change in Usual Communications
Antisocial Acts
Increased Alcohol Consumption
Loss or Increase of Appetite
Intensified Pacing
Change in Social Activity
References
Jeffery Mitchell, PhD
www.drjeffmitchell.com
The International Critical Incident Stress Foundation
www.icisf.org