Communications Confab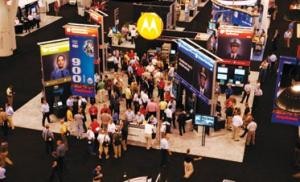 "We are all in the business of keeping our country safe," said keynote speaker Cmdr. Kirk Lippold (USN, Ret.), both a statement of inclusion and a charge for the public safety communications officials attending the 75th annual Association of Public-Safety Communications Officials (APCO) International Conference and Exposition in Las Vegas.
Lippold was the commanding officer of the USS Cole when it came under a suicide attack by al Qaeda in the port of Aden, Yemen on Oct. 12, 2000. The attack resulted in the deaths of 17 U.S. service men. Lippold and his crew overcame extreme odds and were able to save the ship from sinking. The attack on the Cole was a seminal event in U.S. history, and Lippold shared valuable lessons from his experience with attendees.
Just a few months earlier with the words, "I relieve you," Lippold had taken command of the USS Cole and immediately put into effect the command philosophy that he credits with saving the ship. He described for attendees his five pillars of leadership:
Integrity;
Vision;
A personal sense of responsibility and accountability;
Trusting and investing in your people—giving them the latitude to fail because sometimes failure is the best teacher; and
Professional competence.
Held in Las Vegas Aug. 16–20, more than 5,000 people attended the event, which was supported by more than 300 exhibitors, proving in a year of belt-tightening the importance of this subject.
National Broadband?
Much of the buzz around the conference centered on a national broadband network anticipated in the 700 MHz band, and the 700 MHz Broadband Panel Presentation drew a standing-room only crowd. "Either the room was too small, or the subject was too large," said Martha Carter. "I think it was the topic because the room was the average conference room session layout, but several conference attendees were willing to stand for the entire one-hour session, which turned into an hour-and-15-minute session, and the attendees would have stayed longer if they had been allowed."
Learn what broadband is, the types of broadband connections, the advantages of broadband, about broadband in rural areas and how to get broadband at www.broadband.gov.
On the Show Floor
As the saying goes, all work and no play … Fortunately, conference attendees did not have to discover the end of that phrase. Networking opportunities included an Attendee Welcome Reception at the Grand Opening of the Exhibit Hall. The Exhibit Hall offered not just a chance for attendees to network with their peers, but also the opportunity to visit with the representatives of the companies offering the products and services that public safety professionals rely on to do their jobs. A full spectrum of products—from antennas and radios to consoles and chairs to computers to towers—was on display at the conference. A sampling is described below:
Mobile Mark's new GPS Multiband Antenna is hidden away inside the vehicle license plate holder. In a single package, cars or trucks can have GPS for tracking, WiFi for networking and cellular channels for voice or data communications. Public safety officials will find this antenna beneficial for undercover and discreet security applications.
GeoComm was demonstrating the GeoLynx CrimeAnalyst. Developed by ESRI(UK) as an extension of ESRI's ArcGIS, GeoLynx CrimeAnalyst provides local law enforcement the tools to geographically define criminal activities in order to detect patterns, trends and ultimately to make intelligent policing decisions based on actionable data. The GeoLynx CrimeAnalyst goes beyond traditional hot spot mapping by considering not only "where" but also "when" crimes occur through spatial and time-based analysis and other geographic profiling methods.
Intergraph's Mobile Dispatch for Public Safety provides law enforcement personnel in the field with the tools they need to respond quickly when seconds count regardless of their location. This extension to Intergraph's Computer-Aided Dispatch (I/CAD) makes incident, mapping and location data available in the field, improving officers' location awareness, enabling background checks at the scene, updating officer location and availability status, and reducing the amount of radio traffic in the control center. From a mobile unit, officers can receive and acknowledge dispatch messages, view incident details and information such as the incident history for a given location, and access informational databases.
These and hundreds of other new and improved products were on display at the conference. Other exhibitors included Panasonic, Kenwood, EFJohnson, Motorola, Thales, Harris RF, OnStar, ICOM America, Verizon, Sprint, Northrop Grumman and many more.
Next Year … Houston
Start making plans today to attend the 76th Annual Conference & Exposition in Houston, Aug. 1–5, 2010. The information you gain and contacts you make will pay for the experience many, many times over.