Big Gets Better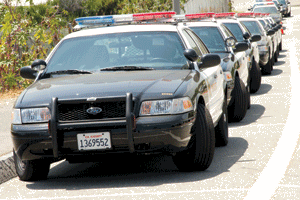 Los Angeles County Sheriffs Department (LASD)—the largest sheriffs department in the country with more than 9,000 sworn officers—announced the largest deployment of mobile data computers ever on November 2.
Nearly 2,500 patrol vehicles were updated. What was most impressive is the wide array of vehicles: everything from off-road-ready jeeps to prison vans to Ford Interceptors and Dodge Chargers—and several models within each category.
The system will provide officers in the field what were previously desk-bound luxuries: the sheriff's data network, mug shots, finger print programs, geo-positioning systems, email, Internet access and much more.
Gregory Costa, program manager for Raytheon, which performed the installation, worked closely with LASD to oversee the project. "In addition to this install," says Costa, "we identified 48 facilities in the county for Wi-Fi access points. Computers will transfer from cell or broadband connections to Wi-Fi seamlessly, providing officers uninterrupted connectivity."
Costa and the sheriffs deserve credit for their vision. Despite its enormity, the installs are clean and the services well thought out. This is an investment that will serve the officers of the LASD and 10 million citizens of LA well into the future.
We'll report more on this installation in coming months.