Berks County Sheriff's Deputy Dies from Gunshot Wounds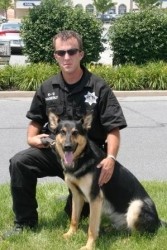 BERKS COUNTY, Pa. (WNEP) – A Berks County sheriff's deputy died from gunshot wounds received during a shoot-out Wednesday night just over the Schuylkill County line, according to state police.
It happened after 6:30 p.m. in Albany Township, near Hawk Mountain in Berks County, not far from New Ringgold.
Troopers said authorities were trying to serve an arrest warrant when the suspect, Matthew Connor, 25, took off.
When Deputy Kyle Pagerly came upon Connor in the woods, both opened fire. Connor was shot dead. Deputy Pagerly died at the hospital.
Troopers said the suspect was wanted for a burglary earlier this week.