10 Things Your Agency Must Know About Social Media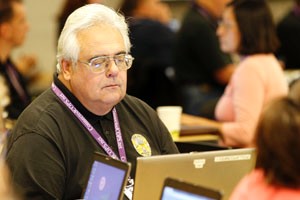 Social media can be one of the sharpest tools on your virtual duty belt—if you know how to use it properly. That caveat is the focus of the Social Media, Internet and Law Enforcement (SMILE) Conference, which runs through Jan. 12 in Santa Monica, Calif.
Approximately 100 law enforcement professionals from five countries are learning technical and practical social media skills to improve their departments, and better communicate and engage with citizens.
Why? One reason, as Capt. Michael Parker of the Los Angeles County Sheriff's Department put it: "I was tired of learning what we were doing as an agency via social media. I was getting its point of view, not the agency's."
Developing its own social media strategy was one way the LA County Sheriff's Department took back its control. In the past year and half, it successfully launched a new website that currently receives up to 200,000 hits per month. It also created a Twitter account.
Other departments are doing the same thing.
Tim Jackman, chief of police for the Santa Monica Police Department, which is hosting the SMILE Conference, dedicates 1-2 hours a day—even on weekends—to the department's social media efforts. He uploads sound bites onto YouTube and then posts them on social media sites.
But it's not only about better funneling accurate information to the media. It's also about delivering information to the public and to employees. Both Jackman and Parker communicate with other officers via social media.
You can do all of this too. But the first step, Jackman says, is overcoming apprehension. The next is educating yourself.
Following are 10 things Jackman, Parker and all the experts at the SMILE Conference want you to know about social media (in no particular order):
1. It's constant: Social media is a 24/7 operation. There's no off button, so to speak. You can't put up a Facebook page and say, "OK, I'm done." You have to monitor it and all your social media efforts constantly.
2. It's different than other media: It's interactive. It's a conversation. People won't respond to your social media efforts if you're also not responding to them. When people ask you questions about your department or what's going on in the community via your Facebook page, answer them.
3. It must be engaging: Your Twitter and Facebook posts shouldn't read like a police report. Make them engaging. Make them readable.
4. It's a weapon: It's your weapon. On the flip side, it's also the bad guy's weapon. Ed Appel, a speaker at the SMILE conference and the proprietor of iNameCheck, said you must learn how to search and use social media the way the bad guys do. Understand their logic and understand Boolean logic. Understand how to properly search via Google, and also learn how to use alternative search engines such as Gigablast, FreeSearch, Exalead, AltaVista, Mamma, Openfind, WiseNut, which use different algorithms than Google.
5. It's a three-way street: When you're speaking about your department via social media, it's going to the media, the public and your employees.
6. It's best if it's local, local, hyperlocal: Unless it directly relates to your agency and city, leave the world news to CNN. What you're tweeting or posting to Facebook should be about your agency and about what's going on in the city or town you protect and serve.
7. It must come with policy, and that policy must continue to evolve: Because social media is forever evolving, so should your policy regarding social media. Employees must know whether the use of social media is expected or not, and that must be written into your policy. Will they be paid overtime if they are posting content to the department's Facebook page while off duty? This could cost the department extra money, so establish guidelines upfront.
8. It's live and out there for all to see: Melanie Poturica, a SMILE Conference speaker and lawyer at Liebert Cassidy Whitmore, said, "Never put in electronic form what you wouldn't want to be received by at least 1 million people." She also said that once the content is out there, it's out there, and it's nearly impossible to take it off of the Internet. Even if you remove a Twitter or Facebook post, you have no guarantees that someone didn't copy and paste the information onto their website. What you post, even if it's only up on your site for a moment, could end up on the front of the Los Angeles Times.
9. It can save a life: You can use it to find out where 3,000 people are going to convene, and you can use it in an investigation.
10. It's here to stay: Social media isn't going anywhere. It's growing, and experts encourage officers to embrace it. "Never in the history of policing has there been a greater opportunity to get our message out," Parker said.
Stream sessions from the SMILE Conference by visiting the ConnectedCOPS website. The next SMILE Conference will be held May 9-11, 2011, in Chicago. Registration opens the week of Jan. 16. Visit the LAwS Communications website to register.