Fiery Crash Kills Texas Trooper
A Texas Department of Public Safety trooper has died after a two-vehicle crash in El Paso.
The DPS said Trooper Javier Arana Jr., 32, was responding to a pursuit call shortly before 1:30 a.m. Saturday when his patrol car was struck at an intersection by a Ford Ranger.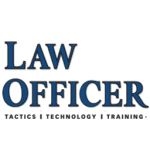 Law Officer
Law Officer is the only major law enforcement publication and website owned and operated by law enforcement. This unique facet makes Law Officer much more than just a publishing company but is a true advocate for the profession.